Antique French Sterling Silver & Vermeil 5 Piece Coffee Tea Service by Harleux

A sumptuous French sterling silver and vermeil five piece tea coffee service by the master silversmith Jean-Baptiste Harleux (Paris, 1842-1875). The set is comprised of a coffee pot, tea pot, cream, covered sugar, and a large open sugar or waste bowl. Rococo scrolls, acanthus leaves, and floral motifs decorate the five pieces. Each lid finial bears a cluster of flower blossoms. The richness of the vermeil or gold wash adds more visual interest. The large open sugar bowl or waste bowl is a welcome addition to a coffee or tea service. Each piece bears a large script monogram and the entire set weights 2926 grams.
A unique and special find. Layaway is available.
French, Circa 1850, .950 silver as denoted by the French Minerve 1st. Titre mark. The set is marked for Jean-Baptiste Harleux and the large open sugar bowl is also marked for Bointaburet, Paris.
Measurements; Coffee pot, 9 ¼" H X 8" spout to handle, 754 grams. Tea pot, 8 ¼" H X 8 ½" spout to handle, 800 grams. Open sugar bowl, 3 ½" H X 4 ½" handle to handle, 624 grams. Creamer 4 ¾" H X 4 ½" spout to handle, 216 grams. Sugar bowl with lid 6 ¾" H X 5 ½" handle to handle, 532 grams. Total weight 2926 grams.
Condition; very good, some loss to vermeil wash. Surface scratches in accordance with age and use. The set has not been polished since I hesitate to disturb the warmth that time has afforded this lovely set.
A signature at delivery will be required for insurance purposes.
Layaway is available for this stunning coffee/tea service! An extended plan can be considered. When will you find another set of this quality?

SOLD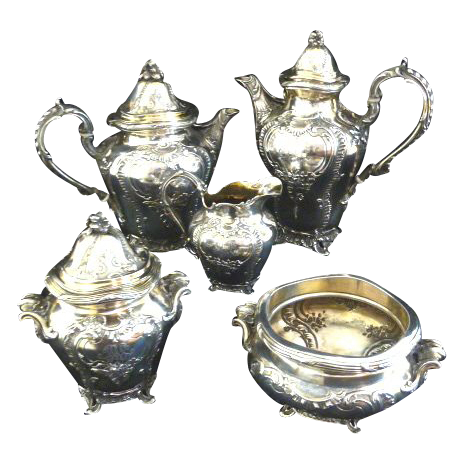 Christofle French Silver Wine Funnel Aerator With Strainer


Item ID:2015008

 

A vintage Christofle silver plate wine funnel with strainer. A one piece aerator for decanting wine or port with a built in strainer. An exceptional silver piece from Christofle which is perfect for removing sediments. Fine condition with only a minor scratch or ding as expected for an Estate piece. The silver plate has the fine glow and warmth of a solid silver piece.

French, 20th Century ; marked for Christofle

Measurements; base is 4" diameter, 6 1/8" high

Condition report; Very good. Minor surface scratches, ever so tiny ding on bottom rim of base . A small area of tarnish that is till being cleaned on the inside.

 

Product/service name
Antique French Silver & Mother of Pearl Knives, Vieillard Mark

Item ID:2014069
 

 

 

Extremely fine set of French silver and Mother of Pearl knives Circa 1820. The set of six have ornate ferrules and caps that make a grand statement. The iridescent Mother of Pearl handles are inset with an oval silver cartouche.

French, caps and ferrules are not marked but most likely sterling silver. They were often worked in sterling but were not required to be marked. Blades are marked for .800 silver as denoted by the Villard mark (2). which was used from 1819 – 38. Maker's mark is being researched.

Antique silver; collect, use, cherish, and save for future generations.

Measurements; 7 5/8"
 




 

Product/service name
Puiforcat French Sterling Silver Asparagus Server Tong or Cuff
 Item ID:2014096

 

An antique asparagus tong or server by Puiforcat in sterling silver. The hinged cuff or pince à asperges offers Puiforcat perfection with a warm patina acquired over time. A superb gift for the person that has almost everything from one of the most respected French silversmiths.

The tong features cross ribbon borders and a raised simple border echoing the shape . Monogrammed with a "D" interlaced with scroll work. In very good to excellent condition.

French sterling silver Circa 1900, marked for .950 silver as denoted by the Minerva 1st. Titre mark. The maker's punch is for Emile Puiforcat.

Measurements; 3 ½" high 4" wide at widest point; 144 grams total weight

Condition report; very good to excellent

1857: Emile Puiforcat, along with his cousin Jean-Baptiste Fuchs, registered the hallmark: diamond-shaped with, a pocket knife in profile, flanked on each side with the initials E and P. 1993: Puiforcat joined the Hermes group